Drum to Disk Brake Conversion by Dan Jones
----------------------------------------------------------------------

Complete Front Spindle Swaps (a.k.a. "The Granada Spindle Swap")

The "Granada Spindle Swap" is a popular and effective way to increase the braking power of older Mustangs (and other Ford and
Mercury automobiles). What makes this swap attractive is the fact that the entire spindle and brake assemblies (but not
necessarily the individual parts) of many 1960's and 1970's Ford, Lincoln, and Mercury autos are directly interchangeable. Since
factory parts are used, the cost is reasonable and everything needed is available from your local junkyard and auto parts store.

Some cars are better than others as donors because they came equipped with 11" diameter brake rotors for increased stopping
power over the more common 10" rotor size. The spindle and brake assemblies of 65-70 Ford Mustangs or 67-70 Mecury
Cougars (and probably other cars like Fairlanes, Falcons, Mavericks and Comets, etc.) can be used, but most of these cars came
with 10" rotors. Exceptions are the early Shelby Mustangs, Boss 302's, and Boss 429's (any others?).

At least some of the 75-80 Ford Granadas, Mercury Monarchs, Lincoln Versailles and 71-73 Mustangs and Cougars (what about
Torinos and Montegos?) have the larger 11 inch diameter discs. The Granada/Monarch/Versailles cars are the most popular
donors for this swap because they have the larger rotors, are relatively common (and therefore inexpensive) in junkyards, and
have parts that are still stocked by local auto parts stores. Also, if you are hunting front brake parts from a Granada, Monarch, or
Versailles, check the rear for disc brakes. Some Granadas and Monarchs, and all Versailles came with disc brake equipped 9"
rear ends.

Note: There is an open question about the Versailles front spindle diameter. When swapping from drums to discs, from the donor
car you'll need the entire left and right side spindle assemblies (spindles, splashshields, calipers, rotors, etc.), proportioning
valve/metering block, and appropriate master cylinder and power brake booster. There's also a chance that you will need new
wheels since some of the old 14" wheels were designed for drum brakes only and will not clear the calipers of the new set-up.
One list member had problems with 14" disc-type styled steel wheels. When I bought my car it had 14x6 Torq Thrusts style
wheels (I don't know if they were made by ARE or not), but they were made to fit drum brakes and wouldn't clear the big disc
brakes. I ran 14" disc brake style steel passenger car wheels for several weeks until I found some used 14x6 Torq Thrusts meant
for disc brakes. I ran those until I got new 15x7 Torq Thrust wheels. Of course 4-lug wheels from early 6 cylinder Mustangs will
need to be replaced with 5 lug wheels. If you are using the Granada/Monarch/Versailles spindles, you will also need outer tie rod
ends which fit those cars.

In all cases you will need the proper master cylinder (disc/disc, disc/drum, or drum/drum) for your brake configuration due to
differing disc and drum brake fluid volume requirements. If you have a 1964-1966 model year car with a single resevoir master
cylinder, you should consider upgrading to a later style dual resevoir master cylinder for safety reasons.

If you have a high performance engine with low engine vacuum, you may need an additional vacuum resevoir for proper power
assist operation. These are inexpensive and readily available from a variety of hot rod parts places like Summit Racing. One
additional note when switching from manual drums to manual discs is that you may notice an increase in effort to stop at a given
rate. This is because drum brakes are "self-energizing" (i.e. energy from the braking effort assists in forcing the shoe against the
drum, decreasing the required effort) while discs are not.

The trickiest part of the swap is that you may need to do a little brake line work. Your donor brakes may require different size
fittings so cutting and re-flaring may be necessary. This is no big deal, if you use the proper double-flaring tool.

Since you'll be getting most of the parts from a junkyard donor car, figure on rebuilding the calipers, replacing or re-packing the
wheel bearings, and getting a rebuilt master cylinder (use the part from the donor car as a core). Also check the condition of the
pads, rotors, and rubber lines and replace as necessary. Don't forget to pick-up some of the little copper crush washers that
complete the brakeline to caliper seal. If you mix and match parts from several donor cars, keep a note with the model and year
of the donor cars for future reference.

When installing new brake pads, it's best to stick with similar pad and shoe materials. Mixing brake pad materials (organic vs
semi-metallic or different manufacturers) can be used to correct fore-and-aft brake bias problems, but it is a trial-and-error
process and the results can vary depending on brake temperature. A better solution is to plumb in an adjustable proportioning
valve to vary the fore-and-aft balance. Various types of adjustable proportioning valves are available. Some use a lever
adjustment with a discrete number of positions, others use a continuously variable knob adjustment. They can even be plumbed
into the cockpit for on-the-fly adjusting.

I performed the Granada spindle swap on my '66 fastback with great results. The car was originally equipped with manual drum
brakes all the way around and a single resevoir MC. They were inadequate at best and downright scary at worst. I upgraded to a
manual disc/drum configuration and dual safety resevoir MC using donor parts (two complete spindle/brake assemblies and a
proportioning valve/metering block) from a 1979 Granada with 11 inch diameter rotors. I replaced one rotor (the other was nearly
new and was re-surfaced) and rebuilt the calipers. I purchased a pair of new 1979 Granada tie rod ends and a disc/drum master
cylinder for manual brakes. I also bought new rubber lines (with circular reinforcements to resist ballooning under pressure) and
added an adjustable proportioning valve. I also took the opportunity to fabricate a set of adjustable steering stops.

I ran into two minor problems during the swap. The first concerned the master cylinder. I was unable to obtain the correct master
cylinder (65-66 Mustang with manual disc brakes) locally. I improvised by modifying a master cylinder from another application to
fit. One of the list members has since informed me that the master cylinder from an early Bronco with manual disc/drum brakes
should work without modification.

The second problem concerned the brake pads. After completing the swap, the car pulled strongly to one side. I traced the
problem to a defective set of pads. Even though the pads appeared identical, I swapped them side-to-side and the car pulled to
the opposite side. I replaced the pads with another set and everything was fine.

An unexpected bonus of this swap is that the new tie rods and spindles are beefier than the originals.

The Spring 1989 issue of Mustang Illustrated article "Drums to Discs without Braking the Budget" covers this swap but some of
the details on years may be incorrect.
Some pictures to guide you on your way: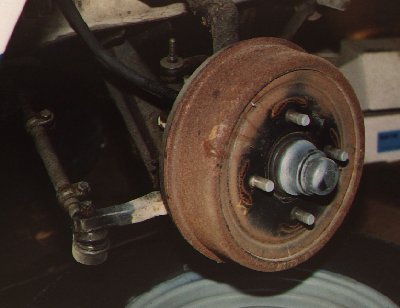 The original drum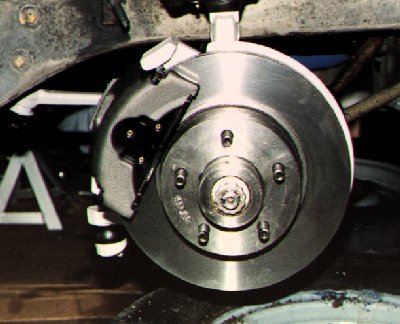 The installed disc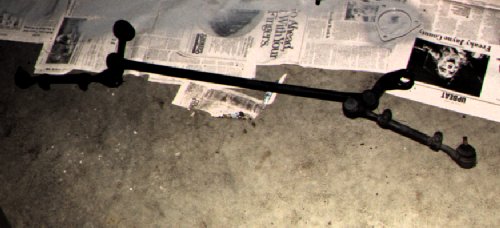 Old links and arms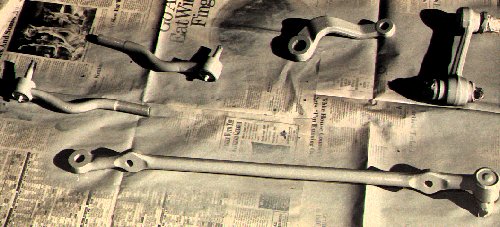 New links and arms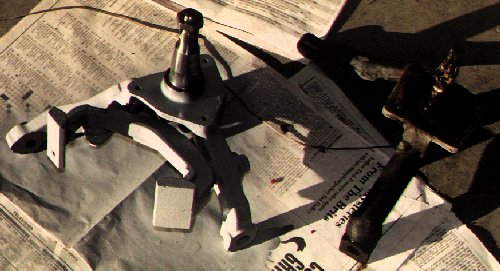 The old and new spindles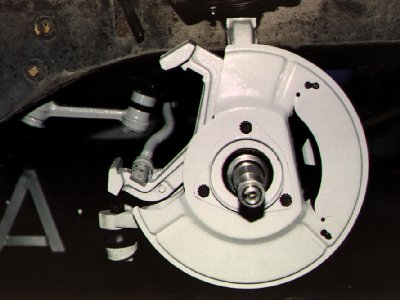 New spindle installed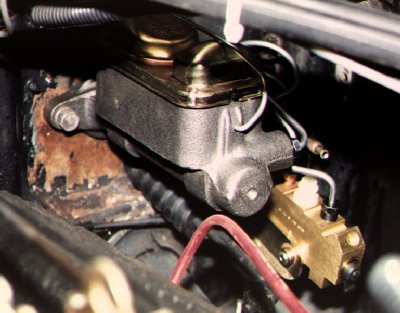 Master cylinder installed


The Parts List
Source       Part Number Qty Description                       Unit Price  Total
Western Auto    S13       2  77 Grenada inner wheel bearings     $5.99    $11.98
AutoZone      693226      2  77 Grenada outer wheel bearings     $6.97    $13.94
Western Auto 71-19221     2  77 Grenada Wheel Seals              $1.89     $3.78
Salvage yard    N/A       2  77 Grenada Spindles
                             (with backing plates and 
                              calipers for core charge)         $30.00    $60.00
AutoZone      561720      2  77 Grenada brake rotors            $39.99    $79.98
Western Auto
        18-4069/18-4070   2  77 Grenada brake calipers          $13.99    $27.98
Western Auto  BH36649     2  77 Grenada brake hoses             $18.99    $37.98
Western Auto  RR-D91      1  77 Grenada brake pads              $12.99    $12.99
Plaza Auto    258340      2  Brake hose adapters                 $1.82     $3.64
Toms Auto     H5527       2  77 Grenada caliper hardware kits   $11.04    $22.08
Master Power Brakes       1  Dual reservoir master cylinder     $69.95    $69.95
Master Power Brakes
               1350K      1  Proportioning valve               $129.95   $129.95
Mustangs Unlimited
         C5ZZ3590ARS 01   1  Idler arm/Pitman arm (GT-350 kit) $119.95   $119.95
Dallas Mustang  1431      1  Center (drag) link                 $96.28    $96.28
AutoZone        SL77      1  Stabilizer end link kit             $6.94     $6.94
AutoZone         #?       2  77 Grenada outer tie rod ends      $31.00    $62.00
Salvage yard    N/A       2  5 lug rims (14 inch)               $10.00    $20.00
                                                          TOTAL COST     $779.42  
---
To return to Main Page, Click here