skips69's {Skip Thompson} '69 Mustang Sportsroof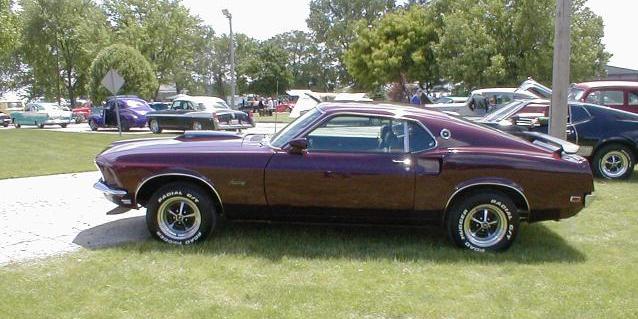 I bought this 1969 Mustang Sportsroof in May 1996. It still retained most of it's original parts and drive train. Originally this car was Winter Blue with a blue interior. I didn't really care for the color, and since it wasn't a rare Big Block Mach 1 or anything, I changed the color to Vintage Burgundy (an original Mustang color discontinued prior to 1969) and installed the black interior. Sheet metal that was replaced includes both full floor pans, partial firewall, both trunk floors, rear trunk brace, both rear frame rails, both front torque boxes, both front inner fender aprons, drivers side shock tower, both rear lower quarters and one front lower quarter. Rusted areas along the rockers, radiator support, rear fender aprons, trunk drop offs, wheel wells, inner and outer wheel houses were all cut out and replace! d with all new metal as well - welded solid and smoothed flush. New door skins were also installed, as were a different hood, and both fenders (the deck lid is at least original still!)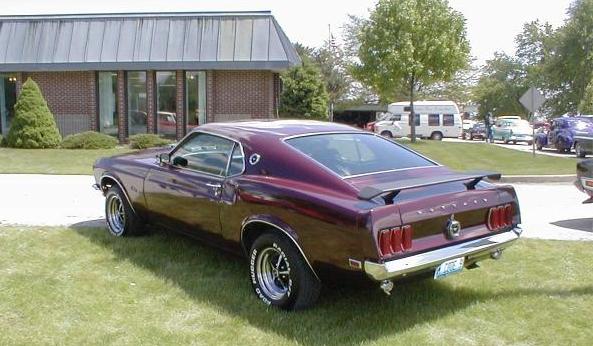 The interior was completely redone as well with many new parts or original parts refinished in black. The suspension and braking system was completely rebuilt with new components or sand blasted clean and re-painted as necessary. A master bolt kit was ordered and used throughout the car during the restoration also. The engine to dash wiring harness too was replaced with new during the restoration process. All brake and tranny lines were replaced (got them made locally for the price of a cup of coffee actually). Once stripped of all parts, the car was rasied about 4' off of the ground and supported by metal barrels and 8"x8" timbers while I sand blasted the complete undercarriage and detailed it. The axle assembly was dissassembled, cleaned and put back together with new bearings and gaskets. It didn't require anything other than that, very good shape for the years and obvious abuse this car had seen.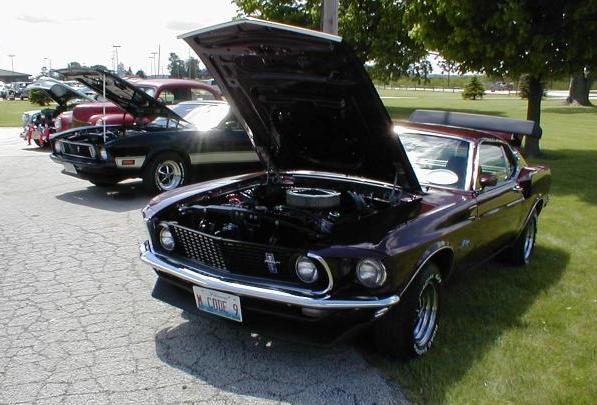 The original 351W 4V was bored .040" and fitted with the Edelbrock RPM package and 9.6:1 ratio pistons and moly rings. The heads were ported and polished, fitted with heavy duty valve springs and new stainless valves. The exhaust exits through Hedman full length headers and is 2 1/2" in diameter from the collectors, through the H pipe, back through the pair of Flow master Stage II muffler's. The transmission is an FMX pulled from a 1972 Mach 1. I still have the original FMX and am holding onto it for a future rebuild as necessary. As of now, no problems. The 9" rear is still stock and retains the original 3.00 to 1 open gear ratio.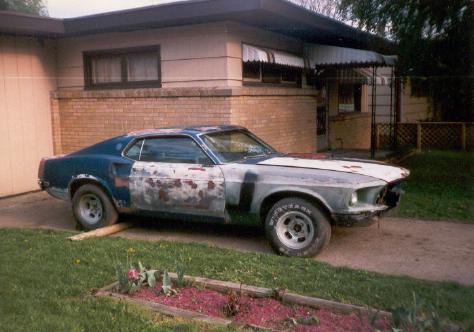 The body was primed, block sanded, primed, block sanded, etc for the next several weeks before finally being painted the current Vintage Burgundy color. Since back on the road, I have added the front and rear spoilers, Magnum 500's and also the one-piece shock tower bracing to stiffen it up some. Much of the trim seat belts and various chrome on the car was purchased as NOS at the time I was completing this project and I was fortunate to get some really good deals along the way. The full length console for example actually came from a 1969 Cougar. It arrived from Tennessee (bought through a trader paper) and looked like brand new, I couldn't believe it for the price. Once I found a ! correct Mustang lid, it looked like it belonged.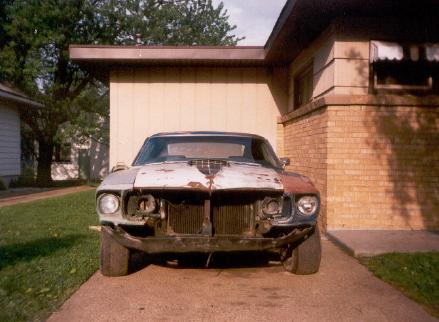 Options included power drum brakes and power steering. This car also had factory A/C - I have all the parts put back for it to one day get it back in and working as well. This was a father-son project that took 3 1/2 years to complete, and like they say it is a sickness. What started out as just a freshening up project eventually became a total restoration. Every aspect of this project was completed by my dad and me with the exception of the engine boring and the new axle bearings being pressed on. All welding, bodywork and paint, as well as the interior reupholstery was performed by us. With the pile of receipts I have, couldn't imagine affording it any other way. A couple years into this, my dad purchased a 1973 Mach 1, and we have continued the process on it as well.
Here's Skip's e-mail address.
---
Return to Mustangsandmore.com
Return to the Mustangsandmore.com Member's Photo Gallery
Go to the next Member Page