gmliebau's {Ed Liebau} '65 Mustang 2+2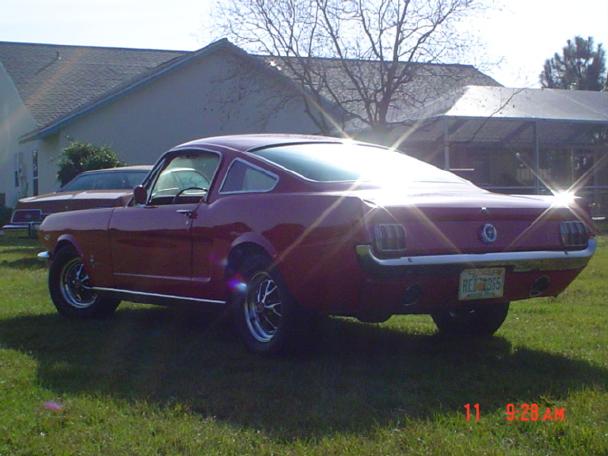 1965 Mustang 2+2
*Red with red interior
*Stock numbers matching 289 with Edelbrock Performer 289 intake and Holley 600 carb.
*Petronix ignition with curve kit and mechanical advance
*9 inch rearend with 3.00 gears
*C-4 with shift kit
*Tri-Y headers and dual Flowmasters
*Shelby-type quarter windows
*GT rear valance and gauges

I bought the car in August from an 18 year old kid and his father in Virginia before
I moved to Florida from Maryland. The son wanted to sell it so he could buy a Honda
to drive to college every day. When I got it, it had a '71 302 with 351 heads and
4:11 gears in the rear. The motor let go so I decided to drop the 289 back in it.
Here's Ed's e-mail address.
Here's a link to Ed's club, www.treasurecoastmustangs.com
---
Return to Mustangsandmore.com
Return to the Mustangsandmore.com Member's Photo Gallery
Go to the next Member Page