bibbs68's {Jeremy} '68 Mustang Coupe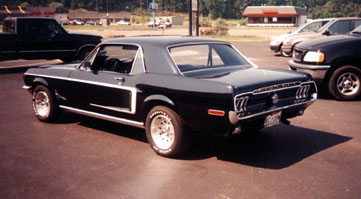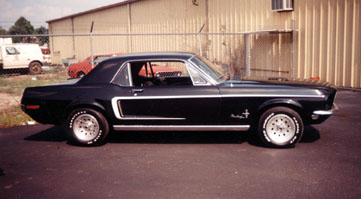 Engine Mods: Original 289 ci 3 speed
Body and Paint: Originally green, now black with white C-stripe
Interior: Originally green, now black
I purchased my '68 Coupe on 9/5/00. It is a dream come true. It is about 80-90% restored. I am the 4th owner of the car.
The two "middle owners" occured within a month. So, now that it has a permanent home, I feel I am the second owner.
I look forward to that great feeling that I keep hearing about when restoring a Pony.
I have wanted a Mustang since I was about 7 and now that I am 24, I hope to enjoy my dream for years to come!
Here's Jeremy's e-mail address.
---
Return to Mustangsandmore.com
Return to the Mustangsandmore.com Member's Photo Gallery
Go to the next Member Page