71Mach1's (Randy Jackson) '71 Mustang Mach 1 clone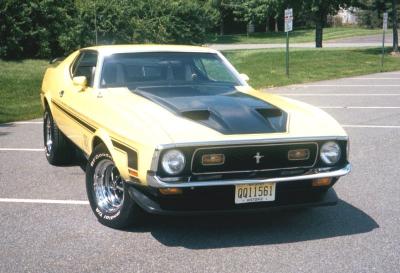 Here is the background: 1971 Mach I (or I should say "Mock" I, started life as a green 302 fastback),
Red with Black interior, 351C ('72 block with '70 quench heads), Holley 750 vacuum secondaries,
Motorsport cam (292/302 duration, .510"/.536" lift), Hooker Headers, 2 Chamber Flowmasters, wide ratio
toploader, 3.70 traction lok. Interior is the deluxe, in dash tach, center gauges, console, fold down
rear seat. I picked up the car from a guy in Connecticut two years ago.
The car was restored at Glazier's Mustang Barn. Pictures may be
seen at Randy's home page
Here's Randy's e-mail address.
Return to Mustangsandmore.com
Return to the Mustangsandmore.com Member's Photo Gallery
Go to the next Member Page