70 Pony's {Eddie D}'70 Mustang Sportsroof
and '66 Mustang coupe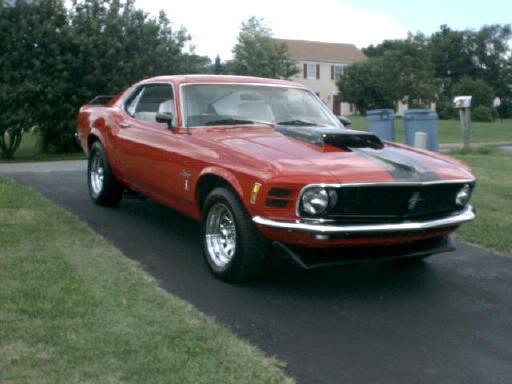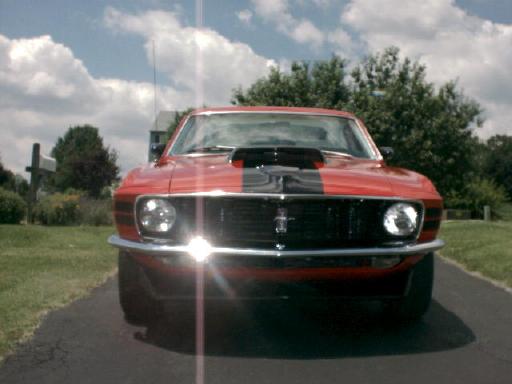 Originally a lime green plane jane, it has a .030" over 351W, Fed Mogul hypereutectic
flat tops with 4 valve reliefs, TFS heads, Edelbrock RPM intake, Crane energizer roller rockers,
Comp Cams Extreme Energy Cam XE268H-10 .509"/512" lift, 224/230 duration at .050",
110 lobe separation, Edelbrock street mech fuel pump, Mellings Hi Vol oil pump, Milodon
hi vol alum water pump, MSD Blaster Ignition, Blaster coil, Mallory Vac Adv Unilite distributor,
1 5/8 Hedman headers into 2 1/2 " pipes with Dynomax Bullet Race Magnum mufflers coming out
in front of rear wheels, 4 x 14" K&N under a functional Boss 429 Hood Scoop,(not shaker but
air cleaner sits right to top of scoop), 3.55 Lim Slip, C-4 w/shift kit, 11" converter with
about 2400 stall, B&M Mega shifter, BFG drag Radials, Lakewood traction bars, KYB shocks,
PST Poly Graphite front end and heavy duty leafs and a Holley 650 DP 4777-1. Car has
P/S P/B and A/C (removed)
Best time at the drags so far was 13.128 @ 106.44 mph at Maple Grove on street tires.
The color is Ford Vermilion Clear Coat.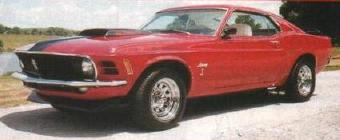 Here is the car with the original hood scoop: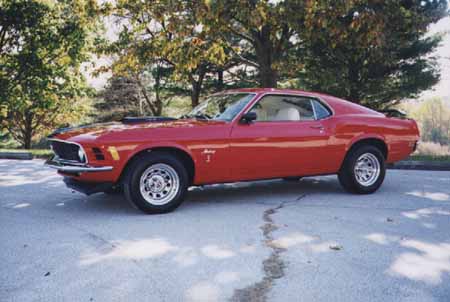 Here's the car with the Boss 429 scoop: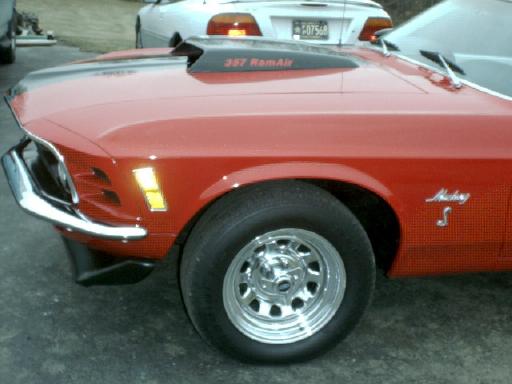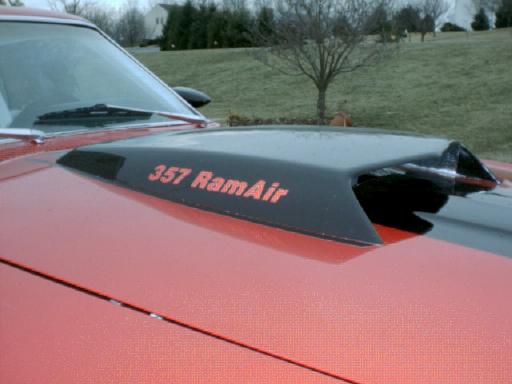 The '66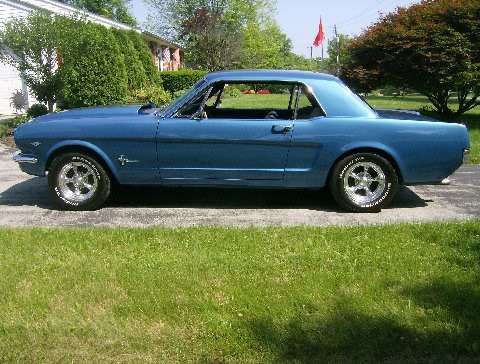 Fresh 302, EBrock F4B intake, Holley 650 Vac/Sec, Comp 270H cam, Tri-Y headers, 2 chamber
Flow Masters. C-4 Trans, 3.55 gears, new Amer/racing mags, new BFG Radial T/A's, Fiber glass cowl
induction hood, fresh paint (Alco/Blue) with grey LeMans stripes. New drums all around and new front suspension, tie rods etc.
Return to Mustangsandmore.com
Return to the Mustangsandmore.com Member's Photo Gallery
Go to the next Member Page